Asian Artist Exhibition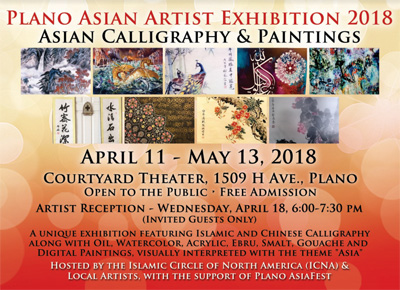 When: April 11 to May 13, 2018
Where: Courtyard Theater (1509 H Ave., Plano, TX)
A unique exhibition featuring Islamic and Chinese calligraphy along with Asian-themed artwork in a variety of media, including oil, watercolor, acrylic, ebru, smalt, gouache, and digital.
Meet the Artists
Link to Meet the Artists PDF
Videos
Mark your calendars for the 2018 AsiaFest on May 5!
Held annually in beautiful downtown Plano, this free festival showcases Asian dance, music, and food for your entire family to enjoy. For more details about AsiaFest 2018, and to see photos from previous festivals, click here.
Become a Sponsor
If you're interested in being a sponsor for AsiaFest 2018, please click here for complete details and forms.
Participants
If you'd like to obtain a vendor booth or food booth, participate as a performer, or volunteer at AsiaFest 2018, please click here for more information and forms.
Support Us
Please consider providing a donation to support Asian American heritage.